---
VP-TX-120 Series
Gas Sensor Transmitters
Contents
Layout
Field Wiring
Block Diagram
Series Part Numbers


The VP-TX-120 Series of Gas Sensor/Transmitters are the inexpensive alternative to gas detection and environment monitoring. The combination of analog 4-20 mA output and the RS-485 digital port makes this unit the ideal choice to connect to analog controllers and digital PLC's. The various Gas Sensors available provide accurate level readings with a life spans of up to 2 years (for electrochemical sensors) and up to 7 years (for solid state sensors) under normal applications.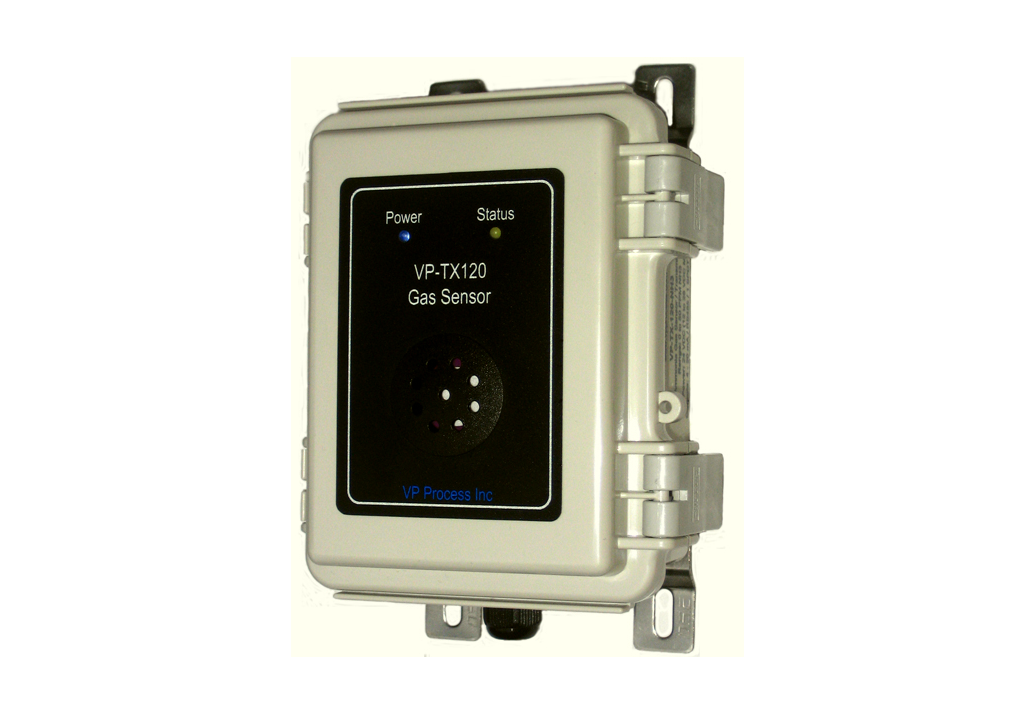 The on board temperature sensor and %RH (Humidity) sensor can be read directly from the RS-485 port or with the LCD display which is internally mounted. The user interface consists of a Status LED, LCD and three pushbuttons. The Status LED indicates OK, LOW, MID, HIGH Alarm. The three pushbuttons and internal LCD provide a convenient calibration method. There are NO potentiometers, all programming and calibration is performed digitally from the user interface. The compact ABS enclosure is rated for IP66 of IEC 529 and NEMA 1,2,4,4x,12 and 13. The interior is EMI/RFI shielded with a nickel conductive coating. For installation convenience, the VP-TX-120-CO comes complete with mounting hardware already installed.
Standard Features
Low Power (12 - 24 VDC)
On-Board Temperature sensor
On-Board %RH Humidity Sensor
Electrochemical, Combusitble (Pellistor) and Solid State Sensors
4-20 mA Output, 1000 Ohm Drive at 24 VDC Power Input
Output Signal Strength LED
RS-485 Output Terminal Block and RJ45 Jack MODBUS RTU Protocol (Gas, Temperature and Humidity Readings)
SPDT Relay, 2A Rating, Jumper Selectable LOW / HIGH Alarm
Flash Microprocessor for Program Variable Storage and Digital Calibration
Compact, Rugged Case NEMA Type 1,2,4,4X,12 and 13 IC529, IP66
EMI/RFI Shielded Interior
LCD Display for Programming and Calibration (Mounted Internally)
External Status LED and Blue Power LED
Internal Status, Power, Heartbeat, and RS485 TX and RS LEDs
Digital Calibration (No Potentiometers)
Three pushbuttons ENTER, UP, DOWN
Back to Top
---
Transmitter Layout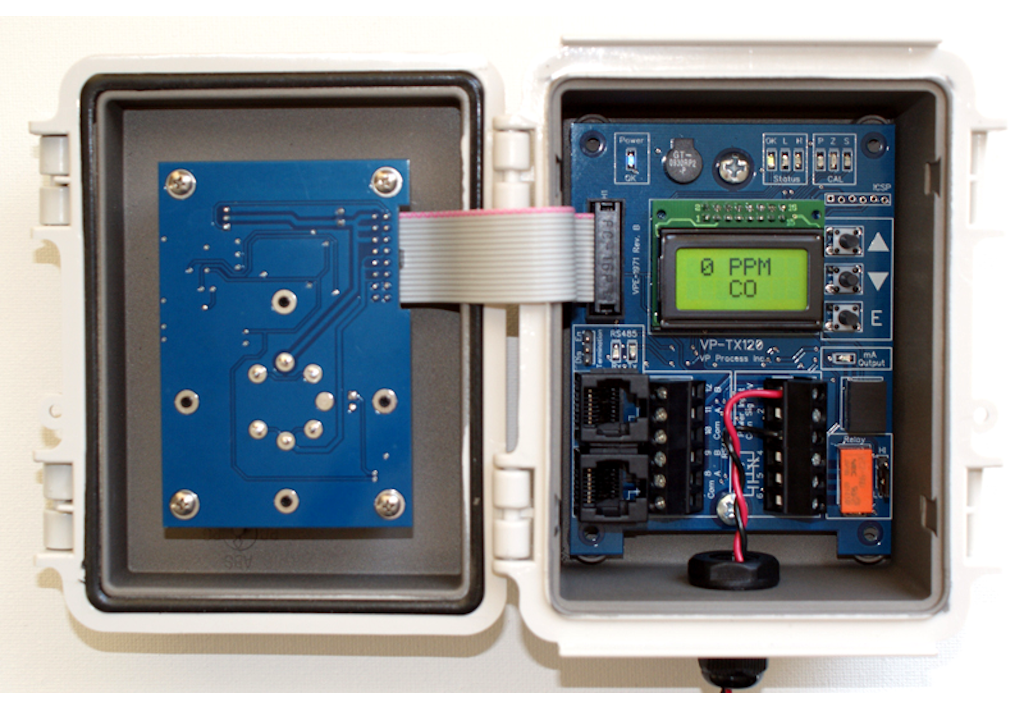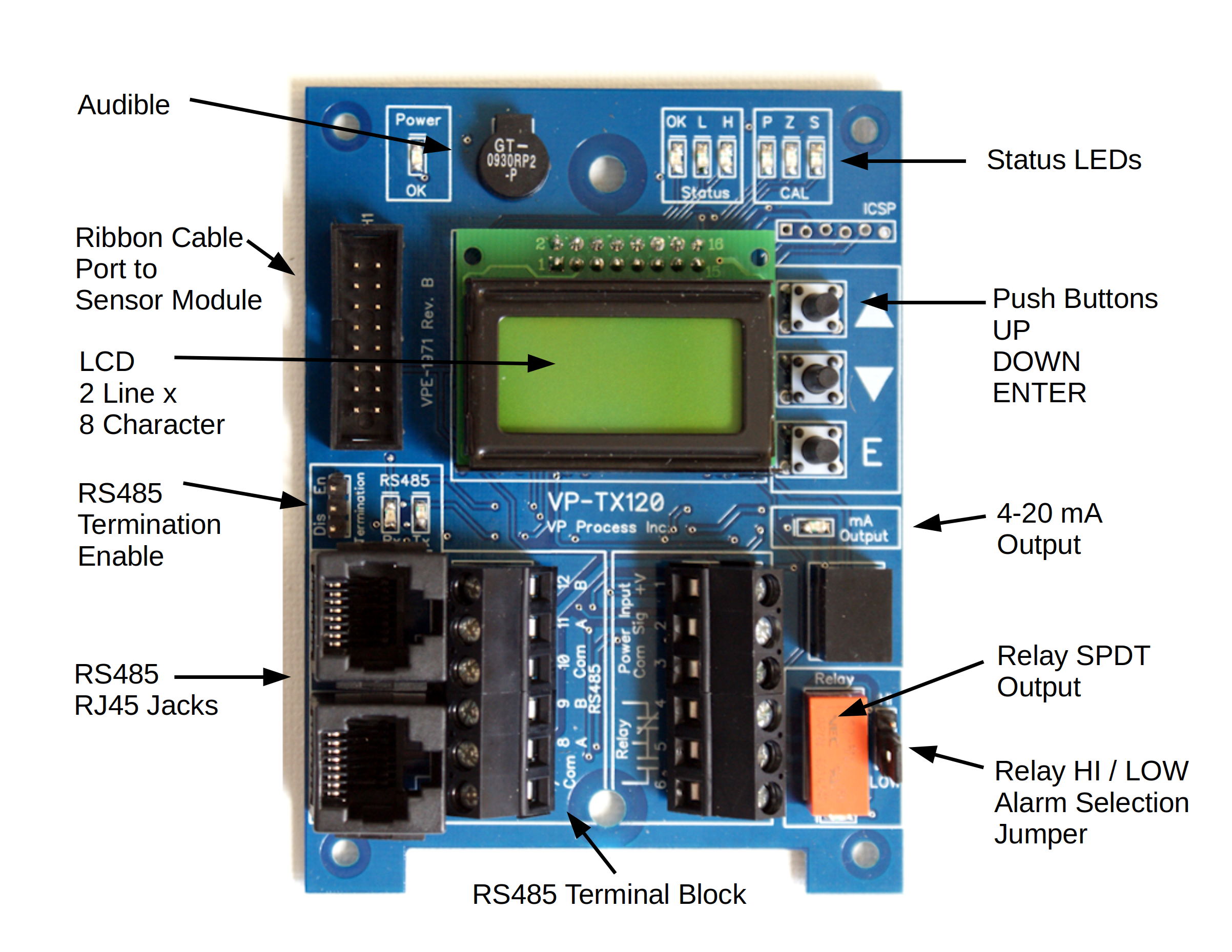 The VP-TX-120 has two printed circuit card assemblies:
1. The main pcb has the LCD, User Interface components, relay. RS485 Rj45 jacks, and the field wiring terminal blocks. This module is common to all the various sensor types.
2. The sensor module is mounted on the door for the enclosure and has the gas sensor, temperature sensor, humidity sensor, pwoer and status LEDs.
Back to Top
---
Field Wiring for all VP-TX-120 Series Transmitters

Back to Top
---
Block Diagram for all VP-TX-120 Series Transmitters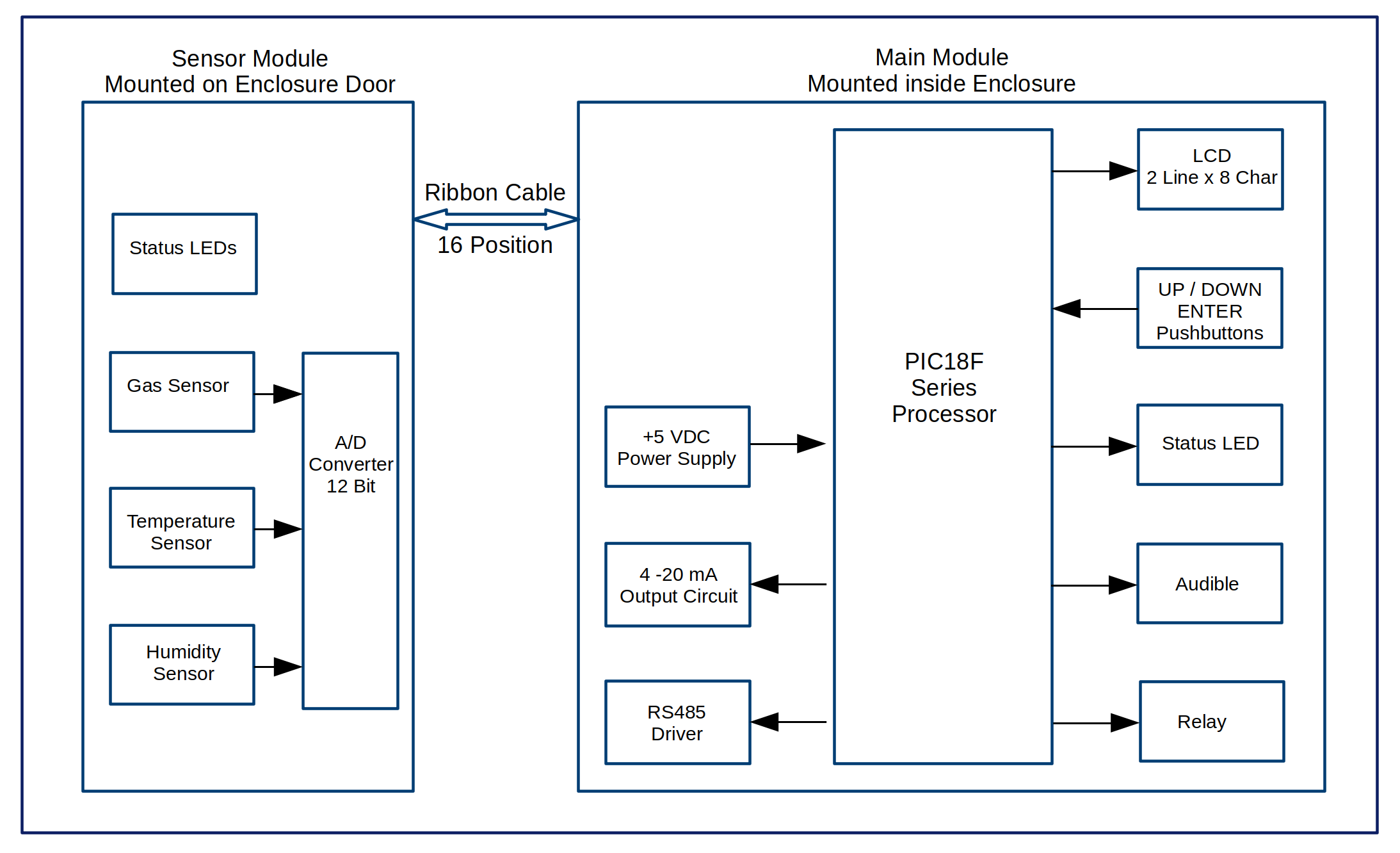 Back to Top
---
Transmitter Part Numbers
| Sensor Type | Description | Typical Gas Ranges | Part No | | Ordering |
| --- | --- | --- | --- | --- | --- |
| Solid State | Gas Sensor / Transmitter for CO, Methane, Ammonia, Propane, Freon | 0 - 400 PPM CO | VP-TX-120-SS | | Contact Us |
| Pellistor | Gas Sensor / Transmitter for CH4, Propane | 0 - 100 %LEL | VP-TX-120-CH4 | | Contact Us |
| Electrochemical | Gas Sensor / Transmitter CO (Carbon Monoxide) | 0 - 1000 PPM | VP-TX-120-CO | | Contact Us |
| Electrochemical | Gas Sensor / Transmitter NH3 (Ammonia) | 0 - 100 PPM | VP-TX-120-NH3 | | Contact Us |
| Electrochemical | Gas Sensor / Transmitter O2 (Oxygen) | 0 - 25.0 %VOL | VP-TX-120-O2 | | Contact Us |
| Electrochemical | Gas Sensor / Transmitter H2S (Hydrogen Sulphide) | 0 - 100 PPM | VP-TX-120-H2S | | Contact Us |
NOTE: Other gas ranges are available upon request
Back to Top